Get Lucky With Used Car Prices At Car Ducky
Posted Friday, Jul 16, 2021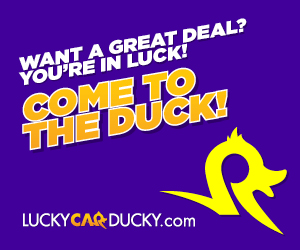 Are You Ready to Feel Lucky?
The chances of winning the lottery might be too great for you to play, but your chances to get lucky with used car prices at Car Ducky are excellent. With the best pre-owned car deals in Fresno, CA you're sure to find the vehicle you want to take home today. Come in and see our team at Lucky Car Ducky. Take one of these amazing models home to be the vehicle that can handle all your driving needs.
Here are just a few of the vehicles that will make you feel lucky when you drive:
You don't have to overpay to drive a luxury SUV from this brand. Take this Land Rover Range Rover Sport out for a test drive and imagine how you'll feel if this SUV is the one that you love to drive every day. You can load up the groceries, take the kids to school, head out for some fun on the trails, and show off when you drive this Land Rover.
With a name you know and trust, this Nissan Pathfinder can become the SUV that handles all your driving needs.  Pull a small boat to the lake, take a trailer to the campsite, and let this SUV become the vehicle you love during your adventures.  Whether it's for your family or just for you, this Pathfinder can become the SUV that you take home today.
2016 Honda Accord 
If it's time to have a reliable and sporty car that can take you everywhere, this Honda Accord should be on your list.  This is a sedan that has everything you want while giving you an affordable price.  If you're ready to get lucky with used car prices at Car Ducky, you'll be glad to see the best pre-owned car dealers in Fresno, CA with this car among them.
2014 BMW 5 Series 
Bring the "Oohs and Ahhs" to this car and let it hear you.  This BMW is a smooth and sensual car that's ready to offer you the athletic and fun drive you desire.  You'll be amazed by the low price and glad to have a great vehicle to drive.  Step inside and take the test drive that will bring you to luxury driving.
Here's a big and impressive SUV that will give you the power, capability, and size you're looking for.  Everyone can ride along and you can pull a large boat or trailer with you to where you want to go.  Outdoor adventures await you in this Ford Expedition and it can easily be the SUV that offers you an amazing drive every day.
Get lucky with used car prices at Car Ducky today. We have the best pre-owned car deals in Fresno, CA to make it easy for you to step into a vehicle that has an amazing package of items for you to have the drive you want.